Our trial attorneys have a proven record of success.
Our clients can attest that a successful trial is not merely a product of excellent oral advocacy during the trial. Rather, our trial successes are very much a product of pretrial legal analysis—often beginning before a dispute crystallizes into litigation and not ending until appellate review is exhausted. We are proud to share that our clients frequently consult us before a dispute occurs. We advise clients regarding their handling of a potential dispute so that they can prevent the dispute or enter into litigation from a position of strength.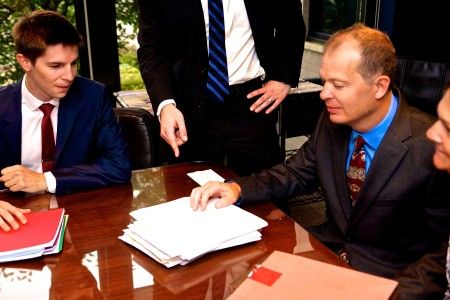 Although we are trial lawyers, our attorneys present a wide array of experience in the areas of insurance defense, insurance coverage practice, employment, professional liability, auto negligence, property damage, product liability, intellectual property, professional malpractice, toxic tort, subrogation matters, and appellate litigation.
The firm has been rated "AV" by Martindale-Hubbell and has recently been accepted by the prestigious International Society of Primerus Law Firms. Its Board Certified Lawyers are also members of The National Board of Trial Advocacy and Civil Pretrial Practice Divisions of the ABA accredited National Board of Legal Specialty Certification.
---
Cardelli Lanfear, founded in 1991 by managing partner, Thomas Cardelli, recently celebrated its 30th anniversary.  The firm is located in Metro Detroit, and our attorneys practice throughout the State of Michigan regularly, as well as handle litigation throughout the United States, Mexico and Europe.  The firm's building, well recognized in Royal Oak, was once a convent for the local church.  It is equipped with the latest IT, conference rooms and audio/video equipment for our clients' needs.
---
Cardelli Lanfear P.C. is a firm known for its trial lawyers.  Its attorneys, however, bring a broad spectrum of talent and expertise to the firm—in areas as diverse as commercial, personal injury, products liability, insurance defense, automobile negligence, toxic tort/environmental, employment, intellectual property, insurance coverage, subrogation matters and appellate law.  All members of the firm are admitted to practice in state and federal courts in Michigan, and some members are admitted in other jurisdictions, such as Ohio, Illinois, and other federal jurisdictions.
---
Diversity and Inclusion Mission Statement
MISSION AND VISION: We are passionate about creating an inclusive workplace that promotes and values diversity. Companies that are diverse in age, gender identity, race, sexual orientation, physical ability, ethnicity, and perspective are proven to be better companies. More importantly, creating an environment where everyone, from any background, can do their best work is the right thing to do.
In order to realize fully our Mission and Vision, we are committed to actively fostering diversity, inclusion and cultural competency through our recruitment, hiring and outreach efforts.
---
Our Commitment to Community Service
Community service has always been a cornerstone of the firm's core values.  As part of its ongoing commitment to stewardship, the firm extends its commitment beyond monetary contributions with a focus on donations of time and talent.  Our attorneys are regularly involved in volunteer, school and community service events in the Metro Detroit area and beyond.  These include:
Michigan Civics Institute
MSU College of Law Mock Trial
American Red Cross
Boys & Girls Club
South Oakland Shelter
St. Mary's Christian Service Commission
Additionally, our firm sponsors student interns from Cristo Rey High School.  The Catholic, co-ed, college-preparatory high school on Detroit's southwest side offers a private school education to students who could not typically afford one.  Seventy-five percent of Cristo Rey's population comes from Detroit Public Schools or charter schools and test behind grade level in reading and math when they enter the school.  The centerpiece of the Cristo Rey model is that each student is part of a team of four students who together fill a single, full-time entry level position at a sponsoring employer.  100% of the pay for the position goes to the school to help cover the cost of their education.  Through the support of Cardelli Lanfear and sponsors like them, Cristo Rey sends 100% of its graduating seniors on to college.  In addition to providing the educational opportunity, the employees at Cardelli Lanfear provide mentoring, training, real-life work skills, workplace etiquette and advice to students who might not ever be given that opportunity.
"Your firm has stood the test of time not only as you opened your firm but also as we are going through today's economic turmoil. We continue to look forward to the great service you provide to us at Westfield. Once again best wishes and congratulations!"
Robert W. Bowers, Westfield Insurance Company